We have been working on new functionality in Galeryst that enables anyone to host live gallery shows in the metaverse for the galleries on Galeryst. The host and the guests can move around the gallery for the show as they are represented by 3D avatars. The host can guide the guests around the gallery highlighting artworks and can even open a shared whiteboard in front of an artwork to explain it. All of this functionality is possible with a new Microsoft Teams app that we are currently beta testing.
Help us craft a metaverse that is about a community sharing artwork and creativity worldwide.

Michael Scherotter, creator of Galeryst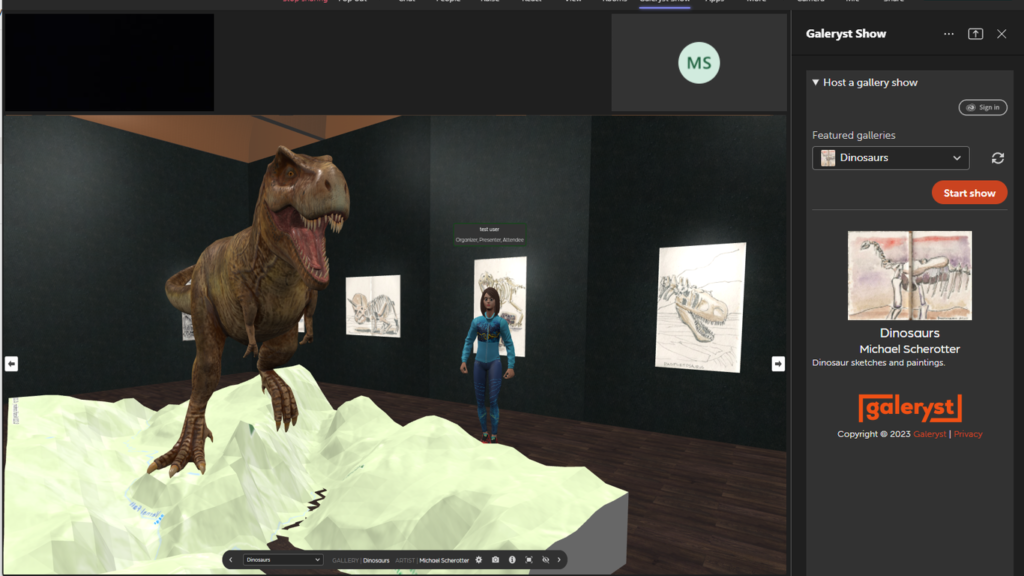 If you are interested in testing this as a guest or as an artist, please sign up today for a 45-minute test meeting on Microsoft Teams. You can participate in a variety of ways:
From the web in Firefox, Chrome, Edge, or Safari
From a PC or Mac using the Microsoft Teams desktop app
From an Android or iOS device using the Microsoft Teams app in the iOS app store or Google Play store
Galeryst generate 3D virtual galleries from Adobe Photoshop Lightroom albums enabling any artist to create a beautiful gallery to share their artwork with the world. Create your free gallery today on Galeryst.com.